Abhinav Mishra, MSRM '16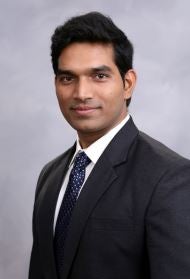 In early 2015, Abhinav Mishra was closing a productive and successful decade on the fast track up the corporate ladder in financial services, preparing for a role as Vice President. However, after taking an inventory of his long-term goals, passions, curiosity, and desire for continuous learning, he concluded that the time was right to take a risk and make a change.  
"There is an entrepreneurial spirit in everything I do," he explains. "I was looking for new challenges to expand my horizons and opportunities to have a larger impact on community and business." 
At the same time, Abhinav observed the disruption and structural changes in the financial services industry, particularly with the rapid development of Artificial Intelligence, ecommerce, and robotics. Risk management, he knew, would continue to be at the core of business as the industry evolved and adapted.
"The industry is embracing new eyes and visionaries to embark on this next phase of technology enabled disruption in financial services," he says. "I also wanted to embark on my own entrepreneurial journey, and pursuing a degree in Risk Management felt like the best step toward that goal." 
Abhinav had difficulty finding a program that offered the specific field of study in risk management he sought. Stern's MSRM program, however, "had the right mix of everything that I was looking for to prepare me for my onward and upward entrepreneurial journey," he says. "The curriculum consisted of a niche focus on all areas of risk management with an emphasis on real world applications, and had a healthy mix of quantitative, qualitative and behavioral factors. The faculty are high-quality thought leaders, engaging, and approachable. And the cohort was a globally diverse group of highly-qualified industry experts in their fields."  
Working with the motivated, ambitious, and experienced peer group was particularly galvanizing for Abhinav. "As the youngest member of the cohort with a lot of passion and dreams, it was great to see many live wires around, C-Suite executives still hungry to learn," he says. "I've always enjoyed being part of an entrepreneurial setup that promotes ideation, collaboration, leadership, team work and constant skill development." 
After he graduated—with a renewed focus for his entrepreneurial visions and expanded knowledge of risk management—Abhinav co-founded Value3 Advisory, a research-based FinTech Startup providing Data, Artificial Intelligence and Risk Management as a Service (RMaaS) solutions to meet corporate and regulatory goals of clients. Value3 is headquartered in Vienna, Austria and has a R&D lab in Mumbai, India. The startup, Abhinav says, is a direct outgrowth of his experience with Stern. "The MSRM program both fueled my curiosity in the areas of financial market research and allowed me to construct my ideas to give them a focused direction."  
That focus is already paying dividends: not only has Value3 Advisory been shortlisted as a TOP-25 Emerging FinTech startup in Europe by F10 Accelerator, but Abhinav himself is on a meteoric track as a rising star in the technology and financial services industries. He was recently invited to be a keynote speaker on FinTech, Artificial Intelligence, and Blockchain at ASEAN Excellence Summit, 2017; was awarded the CTO Platinum Award for significant contributions to cross asset risk modelling platform; serves as a StartUp Mentor at Asia's Leading SuperCharger FinTech Accelerator as well as Founding Member of International RegTech Association (IRTA); was shortlisted by Founders Institute, Entrepreneur First and F10 Accelerator for Entrepreneurship Potential; and was given the 2016 Distinguished Alumni Award by his Undergraduate Engineering alma-mater, Vidyalankar Institute of Technology affiliated to University of Mumbai. 
Abhinav was also inducted into the 2017 Under 35 Global Young Scientists Summit by Singapore Government's National Research Foundation, an experience that reinforced how valuable the MSRM program was in his entrepreneurial journey. "The summit gave me an opportunity to exchange my ideas and vision for financial services, risk management and technology—ideas I was able to focus and fine-tune in the MSRM program—on a much bigger platform." 
Beyond the quantifiable return on investment, Abhinav says that the relationships he formed with his cohort and the faculty are valuable beyond measure. "The MSRM program enables you to build a private network of industry experts across domains, regions and backgrounds. We continue to seek each other's advice based on individual areas of expertise and collaborate in a healthy professional manner," he says. "I continue to stay in touch with faculty members as a source of independent expert opinion and mentoring." 
Favorite course in MSRM:
Market Risk 
Words to live by:
"Thrive in Ambiguity" and "The best way to predict the future is to invent it." —Alan Kay 
If I wasn't in this profession, I would be:
Neuro Surgeon / Heart Surgeon or Venture Capital / Private Equity
If I had a month off, I would:
Travel the world with my partner