Christian Buder, MSRM '12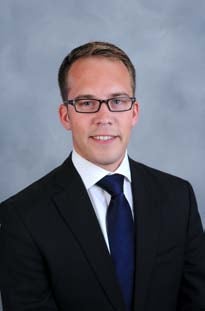 Christian Buder was no stranger to a rigorous executive style program when he joined Stern's MSRM class of 2012. Christian was born and raised in Germany, where he attended a special undergraduate study program that allowed him to alternate full-time work and study-modules, which equipped him with both a degree and practical work experience. 
It was during this undergraduate program that Christian began working with Deutsche Bank, where he eventually rose to Director of Operational Risk Management. 
In 2008, Christian moved from Germany to work at Deutsche Bank New York and decided to pursue his increasing interest in risk management.  "What I really wanted to get exposure to were the various disciplines of risk management that I'm not exposed to as much in my day to day work, as I've always been in the Operational Risk space," he says. "Having a broader idea of risk management concepts makes you a better risk manager." 
Stern's MSRM program checked the boxes of what Christian wanted in a program, among them a brand-name school and an executive style program that allowed him to work full time. 
A highlight for Christian was the holistic approach to risk management the program offered. He explains: "[The curriculum was] a really nice mix of the more technical, quantitative subjects and less-quantitative topics like how behavior and bias plays into risk management and decision making. I was always very much focused on Operational Risk and getting these additional insights on credit, market risk and macro-economic issues added a level of appreciation for other techniques, other approaches and other ways of thinking." 
It wasn't just the curriculum that offered alternative ways of thinking. The cohort and the diversity of his peers also impacted how Christian approached ideas and problem solved. 
"In a diverse cohort, one can exchange ideas and stay current with what's happening around the globe," he says.  
This diversity of thought and approach to problem solving was most evident in the capstone project.   Christian's capstone group was comprised of peers from Germany, Saudi Arabia, the Netherlands, and Russia—each with a unique work and communication style.  "What was interesting is you're working with a diverse group of people as far as background and industry but also culture. You get exposure to different ideas and ways of thinking and you're trying to absorb and learn from others through that process. The capstone and group work that happens through the modules really gives you exposure to your fellow classmates' background and experience," he says. 
The community has benefited Christian long after he graduated. "It's not just the year you spend there and are immersed in it, it's the community you build and the contacts and the support that will stay with you," he says.  He keeps in contact with fellow alumni who help keep his finger on the pulse on the global trends and changes in the industry and risk management. 
Christian is certain about the value add the program offered his career, as it expanded the way he approaches work, enhanced his problem solving, and gave him a holistic knowledge of risk management. He is sure to add, that Stern gives you the tools, but those alone cannot drive you to success.  "It's what you do with what you learn and what you do with your connections,"  he says.