Lizhe (Lee) Sun, MSRM '12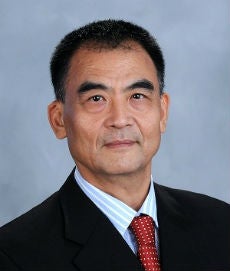 When history touches an individual's life, the effects are rarely short-lived. In Lizhe "Lee" Sun's case, being caught up in China's anti-intellectual Cultural Revolution as a teenager propelled him to learn and achieve throughout his life.
Nearing age 60, Lee continues to pursue those opportunities. The Master of Science in Risk Management Program he earned from NYU Stern made five degrees he has collected since the master's in surgery he was awarded in 1982 from Beijing's Capital University of Medical Sciences. In between, he rolled up an MBA in international business from a China University of Economics and Business-University of Maryland program; an MS in a joint Harvard Medical School-MIT program; an MBA from MIT Sloan; and an LLM from the University of Chicago Law School. And that's not counting the executive business programs he attended at Wharton, INSEAD, Kellogg, and Harvard.
Today, Lee is a Beijing-based director of the board of Bank of Jilin, a Chinese commercial bank, as well as a member of its risk management committee and chairman of its strategy committee. His primary work involves designing, communicating, and monitoring the implementation of the bank's preferred risk spectrum and product development programs. He also serves as an independent board member of a major Chinese pharmaceutical company, a technology company, and chairman of a publishing group.
As for his continuing education, Lee chose to pursue the NYU Stern Master of Science in Risk Management Program, he says, because it is a "rigorous and challenging program custom-designed for professionals and mid-level leaders who come with problems accumulated from their work lives. It lays out critical academic foundations in a systematic way and equips students with the necessary tools and best practices to address real-world tasks." The lessons can be applied right away to his job. "The various takeaways such as risk assessment methodologies, the best practice examples, and management tools prove to be valuable in discussing practical problems in my bank."
The most valuable part of the program? "The professors and guest speakers are of such a high quality that they each carry heavy weight. Most are top names, including Nobel Prize winners and book authors who are authorities in their respective fields."
Stern's alumni network is another plus, Lee points out. Further, he says, "It has been my experience that affiliation with a brand-name educational institution carries a lot of weight in expediting business conversations with implied goodwill and trust."