Mahadevan Radhakanthan, MSRM '16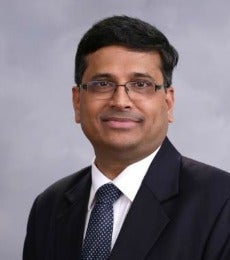 "The Stern MSRM program is a perfect fit for mid-to-senior level risk professionals, not only in the financial field, but in any profession," says Mahadevan (known as Maha), a managing director in wholesale banking credit for Dubai-based RAKBANK.  
Maha, a native of India who moved to Dubai in 2010 for greater opportunity, had decades of banking experience, including substantial credit risk oversight, when he decided to apply to Stern. "With markets and departments within organizations being very interconnected," he explains, "I felt an urge to pursue a degree in risk management to understand risk from an enterprise perspective and not limited to my area of work alone."  
He zeroed in on Stern's program, which a superior had already attended and praised. "The key strength was the reputation of the School and the faculty, who are prominent and well known in financial circles and also rated best at the University. The comprehensive curriculum, varied case studies, and diverse backgrounds of my fellow students added infinite value to the class."  
Despite Maha's considerable experience with risk, the MSRM curriculum was fully relevant and the overlap minimal: "The courses on market risk, liquidity risk, behavioral finance, financial crisis and its impact, and operational risk assessment, to name a few, were new to me. The class on statistics, especially on the various ways to calculate value at risk (VaR), was very interesting."  
Classmates in other industry sectors found the principles equally applicable, he points out. "A friend in the oil and gas sector learned how to manage risk in this era of volatile oil prices."  
Overall, Maha says, "The learning boosted my confidence and helped me understand the environment better. For example, I could better appreciate the impact of Brexit on the local property market, as Gulf Cooperation Council (GCC) nationals would be able to buy properties cheaper due to the pound's depreciation – and it would also result in lower demand for local UAE properties."
Update:
As of January 2017, Maha has been promoted to Chief Credit Officer at RAKBANK.