Majed Al Ghamdi, MSRM '12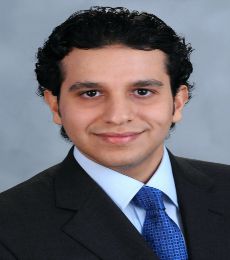 Since earning his Master of Science in Risk Management degree from NYU Stern in 2012, Majed has been promoted twice by his organization, the National Commercial Bank in Jeddah, Saudi Arabia—one of the largest banks in the region. Currently Executive Vice President-Head of Enterprise Risk Management, Majed says the education he received in the Stern program was "very critical" to his career advancement.
"MSRM provided me with the tools required for managing risk in a larger context beyond just my job scope at the time. I was able to contribute in a meaningful way to a variety of challenges that were emerging for my organization and banks in general. It was one of the key success factors in my advancement. It was not that I had to tick a box for having a degree to advance, it was the knowledge and confidence the program gave me in branching out and participating in a wide variety of work challenges."
An industrial engineer by training, Majed began his career with a large petrochemical corporation, but after being exposed to the risk management discipline, he quickly became interested. In 2005 he joined the National Commercial Bank with the aim of specializing in the field. "I could tell back then it was a rapidly growing discipline with a high demand for skilled professionals," he says.
In 2011, during his stint as Manager of Risk Capital and Portfolio Analytics at NCB, Majed decided it was time to expand and formalize his risk management training and solidify his credentials. "Earning a master's degree in a rigorous program at a prestigious university was always part of my plan. The question was always timing and the tradeoff of maintaining career momentum versus updating and expanding my skill sets.
"I feel I found the right balance with NYU's MSRM. It provided me with the necessary base for building holistic and robust risk frameworks for dealing with the dynamic risk landscape of today and tomorrow. Plus, while I knew I would get the opportunity to expand my network with MSRM, the reality exceeded my expectations. Interacting with the program faculty, guest speakers, and fellow program participants from my own and other cohorts was greatly beneficial. There is an active and growing program alumni network, and my annual visit to Stern for the Risk Symposium is something to which I really look forward each year."