Nagaraja Deevi, MSRM '16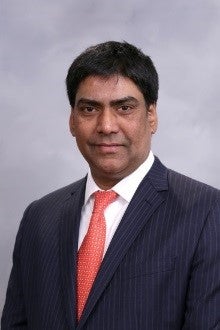 "Risk is key business function and has become imperative for making effective decision making," says Nagaraja Deevi, Managing Partner & Senior Advisor at DEEVI Advisory & Research Studies. As a multi-hyphenate professional (senior executive—board member—thought leader—mentor), with more than twenty-five years in the financial industry, he has seen risk management evolve over the years into a more prominent function across business lines. When the 2008 financial crisis shook up the financial industry—and regulations became more prevalent—risk management shifted from a prominent to critical function. 
At the time, Nagaraja was working as Global Partner, advising global financial institutions in the United States, Europe and Asia. "Banks were struggling to identify and understand various risk exposures across business lines while meeting the evolving regulatory expectations and safeguarding their business interests," he says. 
The post-crisis emphasis on risk management amid tightening regulations and unstable global financial conditions was the key driver in Nagaraja's decision to enroll in Stern's MSRM program. The program offered a broad spectrum of enterprise-wide risk management curriculum delivered with deep expertise from Stern's world-class faculty. 
"The MSRM program helped develop and sharpen skills necessary to perform my responsibilities in the evolving financial regulatory climate. The program covered Risk Management end to end," he says and adds that he continues to practice lessons from the coursework in order to master the art of risk management.
The global focus of the program buttressed the curriculum and heightened the learning experience for Nagaraja. "The financial crisis impacted businesses across the globe," he says. "The MSRM program is very unique, and invaluable learning experience, thanks to senior NYU faculty with global experiences and expertise in the classroom."
Among the highlights of the program, Nagaraja says, was being situated among a "passionate" and "engaging" and diverse cohort, "One of the advantages of the cohort and working in small groups is learning from one another's experiences. My cohort group consisted of Chief Risk Officers and senior banking executives from Australia, the Middle East and Asia. The cohort—a built-in network of professional and personal relationships bonded through the rigorous program—has stayed connected after the program." 
Reflecting on the return on investment, Nagaraja acknowledges that the program gave him confidence, enhanced skills and deepened intellectual curiosity. "The return on investment is multi-fold," he says. "The MSRM program helps the practitioners by giving them a significant boost for the long-term progress of their respective careers."