XanEdu CoursePacks
XanEdu is a publishing platform that allows mobility, interactivity, and accessibility inside and outside the classroom. Materials published through XanEdu can be accessed through the internet, android devices, iPad apps, and Blackboard.
NYU Bookstore Purchase: Follow these instructions after you purchase your XanEdu course materials from the NYU bookstore.
Upon purchase you will receive a 16-digit Folio-X key code.
Refer to the XanEdu Folio-X Important Information below to determine how to begin accessing your Folio-X course materials either through XanEdu.com or Blackboard
Choose your device/access and follow the instructions.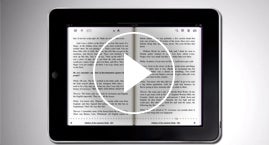 New iPad App 2.8 Tutorial Videos
Watch our new videos to help you make the most of your iPad app experience. Six different videos cover all the main features:
Downloading the app Setting and changing your display nickname for collaboration
Adding and deleting course materials in your library
Basic navigation
Adding highlights and notes
Sharing and collaboration
Watch tutorial videos.