Upcoming Events
September 25, 2017
Cocktails & Conversation with Dean Peter Henry in Washington DC
Dean Peter Henry and Vice Dean Raghu Sundaram will celebrate NYU's fifth year in DC over cocktails and conversation.
October 12, 2017
Author Lecture Series: The Four: The Hidden DNA of Amazon, Apple, Facebook, and Google
Professor Scott Galloway will discuss his new book with Barry Ritholtz, chairman and CIO of Ritholtz Wealth Management.
October 19, 2017
Author Lecture Series: A Billion to One: The Story of Herzog, Heine, Geduld, Inc.
Alumnus John E. Herzog, MBA '71, will share insights from his new book in conversation with Professor Melissa Schilling, Herzog Family Chair in Management.

More Events >
Discover Your Network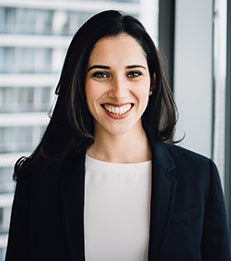 Carolina Cuello, MS '17,
shares her experiences in Stern's
Master of Science in Accounting
.
Give Back to Stern
Connect with Us
---