Announcements
Congratulations to all of the EDI and EDII admitted students to the Class of 2021!
Congratulations to Dean Menon on her 25th anniversary at NYU Stern. Read Dean Menon's interview in STERNbusiness.
NYU Stern is ranked #5 for Undergraduate Business by U.S. News and World Report.

Student Spotlight
Alexandra Grieco (BS '19)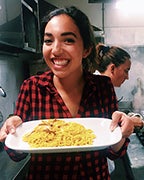 Sophomore Alexandra Grieco shares her experience studying abroad in Florence.