School News
Celebrate Possible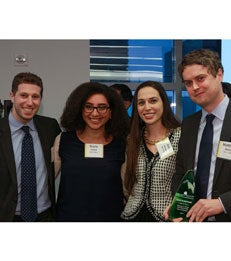 Having worked in emerging markets, I've seen how critical adaptability and intuition are to decision making in these environments. This case was a remarkable crucible for honing these skills. – MBA student Zeev Krieger
A team of NYU Stern MBA students comprising Nazly Havez, Zeev Krieger, Amy Nelson and Matthew Seden took the top spot in the 2013 Aspen Business & Society International MBA Case Competition. Competing against 24 business schools from around the world, the Stern team analyzed a case study on Golden Agri-Resources (GAR), a company that cultivates, harvests, processes, distributes and sells crude palm oil and palm kernel. The team worked with Professor
Rachel Kowal
, who administered the program and liaised with the Aspen Institute, and Professor
David Purdy
, who coached the students on their presentation techniques.
Amy recounted, "We were given an electronic case and were tasked with advising the company on their sustainability program. We learned a tremendous amount about the complexity of business challenges with multiple stakeholders - in this case smallholder farmers, environmental NGOs, government agencies and certification bodies in addition to customers and shareholders." Applying what the team has learned in the classroom, Amy said, "We were able to leverage a lot of the industry analysis we learned in strategy class in order to understand the ecosystem in which GAR operates."
"The process of synthesizing massive amounts of information, forming, testing and iterating on our hypotheses over just a few days was an energizing experience. Having worked in emerging markets, I've seen how critical adaptability and intuition are to decision making in these environments. This case was a remarkable crucible for honing these skills," said Zeev.
Matt added, "My experiences at Stern have been both inspirational and practical, honing an ambitious yet grounded approach that many of my classmates share, and which was reflected in our proposal for GAR in this competition."
In awarding the Stern team the top spot, the judges cited the team's enthusiasm and professionalism before and during the event, and the quality of their ideas and their presentation. For their win, the team was awarded $15,000 from the Aspen Institute and $1000 to give to the charity of their choice, Safe Haven Medical Outreach, a children's disability charity in Cambodia.
Nazly concluded, "The entire experience was very enriching. It was an opportunity to leave the classroom and in a short period of time learn about an industry that has its veins in every sector imaginable and has major influence on the environment. I don't think I'll look at palm oil, or shampoo for that matter, in the same way again!"
Read the Aspen Institute's
Press Release