Research Center Events
NYU Stern-TCH Gallatin Lecture Series on Banking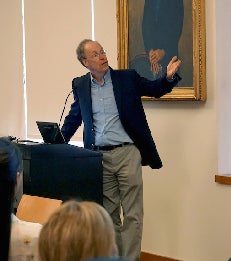 The NYU Stern
Salomon Center for the Study of Financial Institutions
and The Clearing House hosted the third installment of the Gallatin Lecture Series on Banking on September 10. Douglas W. Diamond, Merton H. Miller Distinguished Service Professor of Finance of the University of Chicago Booth School of Business, spoke on liquidity requirements, liquidity choice and financial stability at this quarterly series on banking and bank regulation.
Specifically, Professor Diamond argued that depositors' inability to see a bank's true liquidity position reduces the bank's incentive to hold a sufficient liquidity buffer. Liquidity regulation, therefore, can be useful in discouraging runs. Furthermore, effective regulation mandates that banks hold some liquidity that is never actually used.
Learn more about future Salomon Center events
here
.
Professor Diamond addresses the packed room at the NYU Stern-TCH Gallatin Lecture Series