School News
Solve Possible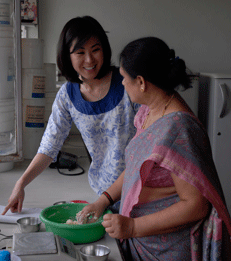 Matt Edmundson and Jenny Tsai (MBA '12) met in Stern's "Social Problem-Based Entrepreneurship" course. Assigned to devise a plan for a business that would tackle a serious social problem in India, they leveraged their combined background in public and global health to address iron-deficiency anemia among pregnant women.
Believing that India's anemia problem, which has persisted despite decades of government intervention, can only be solved by marrying public health with business, Matt and Jenny conducted their own market research and discovered Indian women are forgoing iron pills for a number of cultural reasons. They saw the opportunity to develop a more culturally relevant iron product, and have since launched their business, named Violet Health in honor of starting their venture at NYU.
Matt and Jenny took first place in
NYU Stern's Social Venture Competition
in spring 2012, winning an award of $50,000 to help launch the company, and are optimistic about the future of their venture.
Watch Matt and Jenny's story: