Press Releases
New Research Shows Online Movie Buzz is a Good Predictor of Box Office Success
Professors C. Samuel Craig and William Greene of NYU Stern, and Anthony Versaci of AIG, encourage studio execs to monitor "e-buzz" prior to a film's release to inform marketing efforts.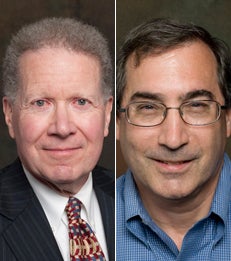 Just in time for the Oscars, Professors
C. Samuel Craig
and
William Greene
of the NYU Stern School of Business, and co-author Anthony Versaci of AIG, are releasing a new study demonstrating that online buzz prior to a film's release is a good indicator of its future box office success. The authors contend that movie studios are in a position to use "e-buzz" to their advantage by adjusting advertising budgets and marketing strategies in real-time to increase the film's likelihood of success.
The research team studied opening-weekend box office revenue and online chatter on film-specific websites (e.g., Fandango and TrailerAddict) for 62 wide-released films over a six-month period. Key insights from the authors include:
Higher levels of electronic word-of-mouth (e-WOM) on a particular film at least three weeks prior to its release, are predictive of success on opening weekend.
The most important factors in generating pre-release online buzz about a film are:

Size of the film's budget – big-budget films generate more online buzz
Whether it was a sequel – sequels enjoy a higher base level of buzz than non-sequels
Whether it was a "horror" or an "action" film – both genres lead to greater awareness of a film and higher intention to watch the movie

Contrary to popular belief, a film's "star power" and rating from the Motion Picture Association of America (MPAA) were not related to opening weekend revenues.
"Three weeks prior to a film's release, studio executives can use web crawlers and bots to compile meaningful e-WOM information about both awareness and intention to see a particular film," says Professor Craig. "This leaves sufficient time to increase advertising spending, change the content of the advertisement and trailers being used to promote the film, and actively use social media to boost online chatter." Professor Craig points to the success of Lionsgate's e-marketing campaign to boost e-WOM for
The Hunger Games
as a case-in-point. "This goes to show that studios do not have to remain passive bystanders, but can become actively involved in managing consumer engagement online," he explains. "Similarly, studio executives can get an early read on its prospects."
The article, "
E-Word of Mouth: Early Predictor of Audience Engagement – How Pre-Release 'E-WOM' Drives Box-Office Outcomes of Movies
," will appear in the March 2015 issue of the
Journal of Advertising Research
.
To speak with the authors, please contact them directly: Samuel Craig, 212-998-0555,
scraig@stern.nyu.edu
; William Greene, 212-998-0876,
wgreene@stern.nyu.edu
; or contact Carolyn Ritter in NYU Stern's Office of Public Affairs at 212-998-0624 or
critter@stern.nyu.edu
.
Follow
@NYUStern
on Twitter for the latest in faculty research.