Business and Policy Leader Events
Prof. Richard Sylla Rings NYSE Closing Bell with others from Museum of American Finance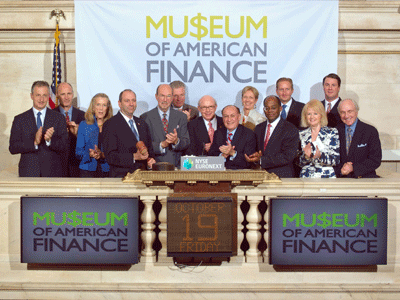 On Friday, October 19, 2012,
Richard Sylla
(center with pink tie), Henry Kaufman Professor of the History of Financial Institutions and Markets and Chairman of the Museum of American Finance, along with his Museum colleagues including its founder and Stern Board member John Herzog (center in grey suit), rang the New York Stock Exchange closing bell. The group closed the markets to commemorate the 25th anniversary of the stock market Crash of 1987.
Read more on
Museum of American Finance
site.