Tales in Possible
Encourage Possible
Nicolas Soubelet draws inspiration from his TRIUM program faculty and classmates in launching Squiz, a reusable eco-friendly food pouch for kids.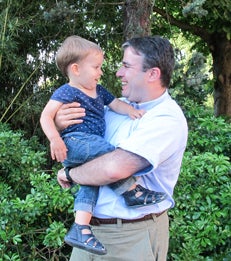 TRIUM is a machine that builds trust and self-confidence.
Nicolas Soubelet's (TRIUM 2015) "aha moment" came just three months into the
TRIUM EMBA program
, during his Module 2 experience at NYU Stern. After 15 years with PSA Peugeot Citroën in various positions in France and abroad (including Supply Chain Management and Business Unit Management), Nicolas resigned from his job in February 2014 to follow his entrepreneurial dream. Together with his co-founder wife Elizabeth, mother of five, they launched Squiz, a reusable eco-friendly food pouch.
In his years leading up to
Squiz
, Nicolas, a French national and engineer by training, had developed a strong knowledge of lean management and industrial launches. (In 2012, he became a Business Development Manager at PSA Peugeot Citroën, using his rich industrial background to design, negotiate and implement the future cooperation strategy of PSA.)
Yet despite the wealth of expertise developed in his corporate career, Nicolas wanted to leverage his "management know-how" and "his business strategy" into an entrepreneurial project that touched him personally. With a desire "to change the classic consumer model," he and his wife launched Squiz; a reusable food pouch for children (and adults!), providing a practical solution for parents who prepare their own baby food and snacks as well as an economical and convenient alternative to single-use pre-filled baby food and applesauce pouches.
Before charging head on into the project, Nicolas was keen on getting feedback from his classmates. "TRIUM is a machine that builds trust and self-confidence" that inspired Nicolas to pitch his idea during a Module 2 "unplugged" session in New York. "When I shared the Squiz story, I received fantastic messages of encouragement in return," he affirms. This input, coupled with "inspirational lectures by NYU Stern Professors Steven Rogers, Sonia Marciano and Aswath Damodaran" helped set the wheels in motion for him to speed forward.
Soon after returning home to Paris from Module 2 in New York, he secured financial support from France Initiative, an entity of the French government, to begin production. Press coverage then followed: this past March, Squiz pouches previewed in France at the Paris Baby Fair, garnering a stellar review on national French television and laying the groundwork for future consideration in national competition for "innovation project of the year" in the baby industry.
However, despite the initial success in getting Squiz launched, Nicolas is keen that consumers know Squiz's full story. "Sensitive to the needs of women and children" the husband and wife co-founders are committed to donating part of their proceeds to supporting innovative humanitarian projects. Once such charity is Every Mother Counts, a non-profit organization founded in 2010 to increase public awareness and support for improved maternal and child health.
Coupling theory with practice, now halfway through his TRIUM module studies, Nicolas is keen to put the future coursework to good use in his new entrepreneurial venture.
(Nb. Sales of Squiz were launched on Amazon.fr in May.)
This story originally appeared on TRIUM's blog