Tales in Possible
Exchange Possible
Langone MBA for Working Professionals student Pablo Zadicoff traveled to Shanghai as part of a team participating in the NYU Global Idea Exchange.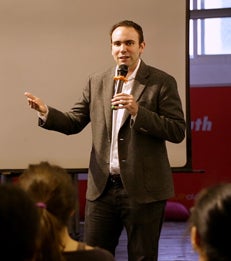 Stern has given me the opportunity to meet very interesting people from different backgrounds and to broaden my skills to have a more complete view of the business world.
NYU Stern Langone MBA for Working Professionals' student Pablo Zadicoff had just finished taking Professor and Director of Stern's Urbanization Project
Paul Romer
's "Urban Systems" course, when he heard about NYU's Global Idea Exchange. The NYU Global Idea Exchange (GIE) is an open innovation platform that invited the entire NYU community of students, faculty and administrators to collaborate around the question: "How might we activate the potential of cities to ignite a modern renaissance?"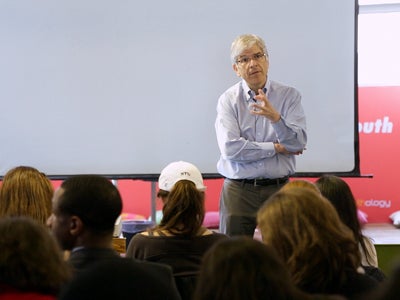 NYU Stern Professor Paul Romer
"Professor Romer, without knowing it, got me involved and excited about the GIE. His course circled around the idea of cities as engines of innovation and economic growth," said Pablo. "Participating in the GIE allowed me to dig into what I had learned in class."
More than 1600 NYU community members from around the world, including 170 Stern graduate and undergraduate students, came together—virtually—to collaborate on ideas to answer that question. From there, a set of finalists was selected to travel to Shanghai and, with advisement from NYU and Stern Professors including Paul Romer and
Luke Williams
, build on and present their ideas.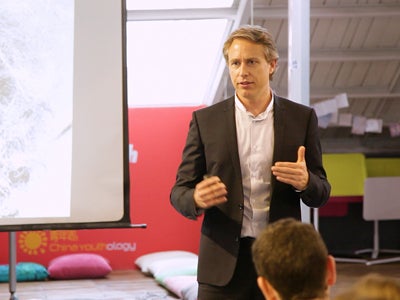 NYU Stern Professor Luke Williams
Pablo had two ideas selected for the final stage. "Reclaim the floor" was about finding social uses for city sidewalks. His second idea, which he further developed in Shanghai, focused on what he calls a "time renaissance:" looking at alternative uses of time and its impact on well being. "The idea behind the time renaissance is that, for the most part, we ignore the link between our free/leisure time and the types of goods we consume," he said. ""We examined what it would be like if we were to give up some of the 'luxuries' we consume and dedicate more time to the things that more deeply impact our well being such as family time, hobbies, community service, etc.
"Professor Romer guided my team to define our idea by helping us to translate the economic concepts of the idea into a message that could be understood by everyone. In Shanghai, Professor Williams described the importance of putting our ideas into action and prototyping our idea to see how it would behave once we brought it to life." And all along, Pablo added, "Professor [and Vice Dean] Adam Brandenburger encouraged the team to think big. We had incredible support from the Stern faculty."
Pablo said that this experience has enhanced his Stern experience and helped him to meet his career objective "to be able to solve real-world problems while having fun," he said. "I enjoy looking at things from a different perspective and trying to improve the status-quo. Stern has given me the opportunity to meet very interesting people from different backgrounds and to broaden my skills to have a more complete view of the business world."