Tales in Possible
Greet Possible
New Langone MBA students began their journey at NYU Stern during Langone Lab: Fall 2015 Orientation.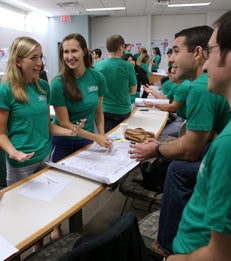 Set limits when you need to, but challenge yourself. Test new theories. --Hank Chang
What do a Googler, an event greeter, a pastry chef and a newspaper editor have in common?
All of them earned their MBA in Stern's Langone Program.
Equally important, these Stern alumni reflected upon how these roles served as a catalyst for forging lasting connections with fellow students, alumni, faculty and administrators.
They shared their stories on September 12-13 with incoming
Langone MBA
students at Langone Lab, a weekend-long orientation program for Stern's working professionals. Students spent their first two days on campus interacting with new classmates, current students, faculty and alumni and collaborating through an innovation activity, led by Professor
Luke Williams
, Executive Director of Stern's W. R. Berkley Innovation Lab, to develop business solutions that could help alleviate issues of scarcity in the world. Throughout the weekend, Langone MBAs tapped into the Stern community's broad range of knowledge and industry experience.
Pooja Bavishi (MBA '15), Hank Chang (MBA '12), Victoria Fabiano (MBA '15) and Esther Gibofsky (MBA '15) joined Dean
Peter Henry
, Dean of Students Conor Grennan and Stern faculty in welcoming the new Langone MBAs to this diverse community.
The alumni reflected on their Stern journey as an intersection of their personal and professional lives, a key theme of Langone Lab. They shared their recommendations for making the most of the academic and interpersonal opportunities inherent in the MBA program. Esther emphasized the breadth of the Stern support system and its leadership opportunities, all of which have helped her expand her professional network and transfer new skills to her long-time role at Google. Hank served as the greeter for the School's weekly social event because it gave him the chance to get to know so many different people throughout the Stern community – full-time and Langone MBA students, faculty and administrators – who are now some of his closest friends and advisors.
They also emphasized the importance of complementing a strong professional network with an adventurous academic spirit. "Set limits when you need to, but challenge yourself. Test new theories," Hank told the group.
Pooja, for example, crafted a plan that would allow her to transform her personal interests as an amateur pastry chef and food blogger into professional success with her new ice-cream business, Malai. Similarly, Victoria showed how a customized academic roadmap and a wide variety of extracurricular activities (including managing editor of the student newspaper,
The Stern Oppy
) can lead to meeting the right people, accepting the right opportunities and making the right career transition.
These alumni stories reinforced Dean Henry's opening advice to take advantage of the diversity available at Stern – the diversity of people, ideas and experiences – and immerse oneself deeply in this community of communities.
"You are now part of the Stern family," he said. "We're a family of highly talented people, and we can't wait to see where those talents may take you over your next few years here."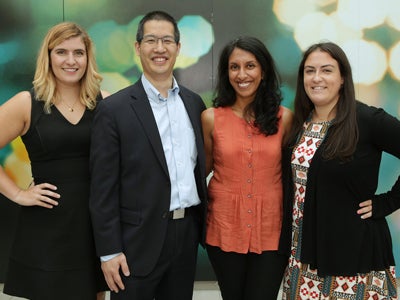 Victoria Fabiano, Hank Chang, Pooja Bavishi and Esther Gibofsky (from left to right)