Eric R. Dinallo, J.D.
Adjunct Professor of Business Ethics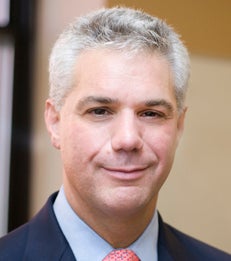 Eric R. Dinallo joined New York University Stern School of Business as the Henry Kaufman Visiting Professor of Finance in September 2009. He currently teaches Professional Responsibility at Stern as an adjunct professor of business ethics.
Mr. Dinallo is a partner at Debevoise & Plimpton LLP and a member of the firm's Financial Institutions Group, counseling clients on government and internal investigations, enforcement actions, litigation and compliance matters, and regulatory and strategic legal advice on mergers and acquisitions and other corporate transactions.
---
Mr. Dinallo served as the New York State Superintendent of Insurance (2007-2009), which, under his leadership, became a national model on insurance regulation and a respected voice on the industry's role in the financial system. He worked with the United States Treasury Department, the Federal Reserve Bank of New York and others in the restructuring of financial services giant AIG, for which he was named a "Dealmaker of the Year" by The American Lawyer in 2009. He earned national acclaim for leading negotiations resulting in the largest regulatory settlement in the U.S, a $2 billion insurance agreement stemming from the destruction of the World Trade Center.
---
Mr. Dinallo was General Counsel of Willis Group Holdings (2006-2007). He was the Managing Director, Global Head of Regulatory Affairs of Morgan Stanley (2003-2006), and served as Chief of the Investment Protection Bureau in the Office of Attorney General Eliot Spitzer (1999-2003). He also served as an Assistant District Attorney in the New York County District Attorney's office (1995-1999).
---
Mr. Dinallo was a primary election candidate for New York State Attorney General in 2010. Following the election, he served as Co-Chair of the Economic Justice transition committee for New York Attorney General Eric Schneiderman. He served as Co-Chair of the Criminal Justice transition committee for Andrew Cuomo in 2006.
---
Mr. Dinallo has testified over a dozen times before the Financial Crisis Inquiry Commission, state legislators and committees of both houses of Congress on credit default swaps, the restructuring of AIG, long-term health care, bond insurance and terrorism insurance, among other issues.
---
Mr. Dinallo received his B.A. in Philosophy in 1985 from Vassar College, and his M.A. in 1987 from Duke University School of Public Policy. Mr. Dinallo earned his J.D. from New York University in 1990, where he was Review and Essay Editor of the New York University Law Review. He clerked with the Honorable David M. Ebel of the United States Court of Appeals, Tenth Circuit in Denver (1990-1991). Mr. Dinallo serves on the Board of Directors of the American Institute for Stuttering.