Hans Taparia
Clinical Assistant Professor of Business and Society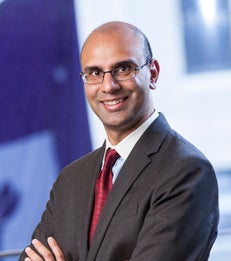 Hans Taparia joined New York University Stern School of Business as a Clinical Assistant Professor of Business and Society in September 2014, after having been an adjunct professor at the School since 2011. Professor Taparia teaches courses in social entreprenuership, marketing and professional responsibility and leadership.
Professor Taparia has been an entrepreneur for most of his career. He is a co-founder and helped build one of America's leading healthfood brands,
Tasty Bite
, which was then sold to Mars, Inc. he was also co-founder of ASG-Omni, a US and India-based management consulting firm and incubator. ASG-Omni was a co-founder of Bangalore-based Tejas Networks, which has grown to vecome one of the leading optical networking companies in the world, and is now publicly traded.
Professor Taparia has a Bachelors of Science in Management Science from the Massachusetts Institute of Technology, writes and speaks regularly on the subject of food, is an active investor in the food and health space, and sita on several nonprofit boards.
---