Leigh-Anne Walker
Adjunct Professor of Business Ethics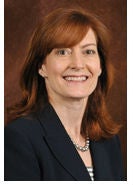 Leigh-Anne Walker is currently a Visiting Fellow at Yale University where she is researching the pre-Revolutionary American economic system, and how notions of liberty and moral virtue influenced the development of free market capitalism in the United States. Her interests also include professional ethics and values-congruent conflict resolution in corporations.
Professor Walker has significant experience as a senior executive in the financial services industry, with particular expertise in business leadership, CFO-level financial management, process improvement, joint venture management, and strategic planning. Her work at Fortune 100 companies (JPMorgan Chase, Citigroup, American Express, Bell Laboratories) has included a number of challenging roles that have caused her to wrestle with a variety of ethical dilemmas, including Managing Director level responsibilities as CFO and later CEO of business units at JPMorgan Chase.
Professor Walker received her B.A. in Psychology from Dartmouth College, her M.B.A. from the Amos Tuck School of Business Administration with a concentration in Finance, and her M.A.R. from Yale University with a concentration in Ethics.