Upcoming Programs & Services
Click
HERE
for a full listing of 1-on-1 sessions, group workshops, guest speakers, and more.
A catalyst for new venture creation
At the W.R. Berkley Innovation Lab, our programs create and nurture serial innovators capable of launching and leading transformative organizations, whether pioneering startups, bold and unreasonable social ventures, or intrapreneurial corporate divisions.
Executive Director Luke Williams interviewed by Poets & Quants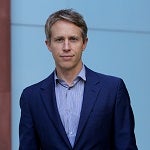 Read on for Luke's thoughts on entrepreneurship and disruptive innovation.