Strategic Steps for Growth: Management Training for Entrepreneurs
A public-private partnership that has lead to accelerated growth for local firms.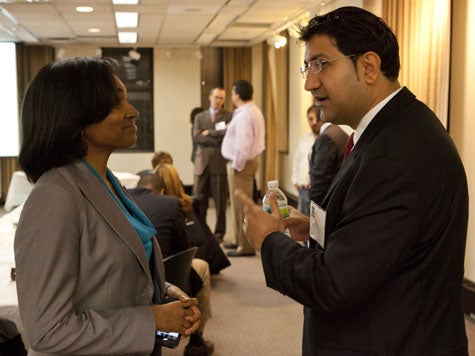 Berkley Center's Senior Associate Director, Cynthia Franklin, with Shyam Gulati, CEO of InfoPeople, a Strategic Steps for Growth participant. Cynthia is the program's instructor.
One way we have impact working with the City's business community at-large is through our involvement with Strategic Steps for Growth (SSG), an innovative management training program that targets established small businesses.
This 9-month intensive program is delivered by the Berkley Center and offered in partnership with New York City's Department of Small Business Services. SSG fosters job creation and stimulates economic activity by helping minority- and women-owned firms, many of which are based in economically disadvantaged areas of New York City, build capacity and accelerate their growth.
SSG uses an award-winning curriculum developed by Interise, a Boston-based nonprofit, and taught by the Berkley Center's senior associate director, Cynthia Franklin. During the program, participants work on developing critical areas such as financial management, marketing, human resources development, etc. Each business owner leaves the program with a detailed 3-year growth plan that provides a blueprint on how they can take their company to the next level.