Books
The Definitive Guide to Entertainment Marketing: Bringing Moguls, Media and Magic to the World
By Al Lieberman and Patricia Esgate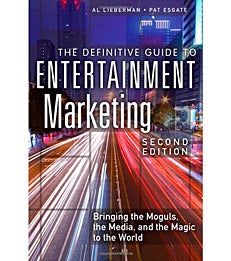 Entertainment today covers not only what we do with our free time, but how we work, how we gather and share information, and how we connect on the most personal basis.
Professor
Al Lieberman
, executive director of Stern's
Entertainment, Media and Technology Program
, and Patricia Esgate, writer and consultant to the destination entertainment industry, have updated their classic guide to reflect the changes within the entertainment industry including new platforms, new media, new tools and new global markets.
The Definitive Guide to Entertainment Marketing
(2nd Edition)
surveys every major entertainment marketing platform by illuminating challenges and opportunities associated with new technologies, explaining the implications of globalization, demonstrating sophisticated new integrated marketing strategies and previewing emerging challenges. The book reflects powerful trends ranging from smartphones to globalization and demonstrates breakthrough strategies integrating advertising, promotion, PR and online content distribution.
The book will be released by FT Press on July 8.
To learn more, visit Amazon
___
Professor Al Lieberman is the Albert Gallatin Memorial Clinical Professor of Business, Professor of Management Practice and Executive Director of Stern's Entertainment, Media and Technology Program.