Business Across Borders
NYU Stern Alumni Working for a Better Nepal
Three NYU Stern alumni, Conor Grennan, Nancy Wong and Randy Coughlan, share their perspectives on working at Next Generation Nepal, a nonprofit organization started by Gennan that finds as many of the country's trafficked children as possible and places them in a safe environment.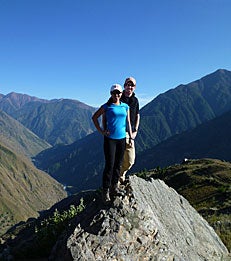 Conor Grennan, MBA 2010
President and Founder, Next Generation Nepal
In 2006, Conor Grennan received news that would change his life. He had returned to New York after volunteering in an orphanage in Nepal, expecting that the children, many of whom were not true orphans, were being reunited with their families or relatives. Instead, he learned that seven of the 18 children had been collected by a trafficker and sold. With the help of a colleague, he immediately began planning to return and rescue them.
After much fundraising and a self-guided crash course in founding a nonprofit organization, Grennan flew back to Nepal and began to find the children one by one. "They were in terrible conditions. Two of them I thought weren't going to live," Grennan remembered.
Ten months later, all seven children were found and on their way back to health. Grennan, determined to do something to help the estimated 15,000 trafficked children in the country, created Next Generation Nepal. Since its founding in 2006, the mission of this nonprofit organization has been to find as many of the country's trafficked children as possible and place them in a safe environment, providing them with a home and an education, and reuniting them with their families when possible.
Child trafficking exploded in Nepal during the 10-year civil war. To keep their children from being forced to fight in the Maoist army, parents paid for their sons and daughters to be placed in boarding schools where they would remain until the war was over. Tragically, those who had promised to ensure the children's safety instead abandoned them, some as young as three, to the streets. Eventually they ended up in orphanages like the one where Grennan had volunteered, the Little Princes Children's Home.
--
Nancy Wong, MBA 2011
Director of Strategy, Next Generation Nepal
The day before her graduation from NYU Stern, Nancy Wong, was relieved to hear that her employer, Deloitte Consulting, had agreed to defer her start date for one year. She had places to go and people to help.
In April, Wong's former classmate and past SCorp President, Conor Grennan, MBA '10, had come to campus to talk about his book and Next Generation Nepal. It took Wong only four hours to pore through his memoir, Little Princes: One Man's Promise to Bring Home the Lost Children of Nepal. She read it through once more before contacting Grennan to tell him she was coming to Nepal to help. Consulting would have to wait.
Wong joined the organization at a pivotal time. Now Next Generation Nepal's Director of Strategy, she is helping the nonprofit shift its focus as conditions in Nepal have changed.
Wong is tasked with developing a fundraising strategy, forming NGO partnerships, building awareness, conducting a local media campaign, blogging about her experience (
http://eat-explore-live.tumblr.com/
) to raise awareness, and doing "lots of HR work." She also teaches volunteers and local staff about using computers and English as a second language.
--
Randy Coughlan, MBA 2011
Senior Associate, PricewaterhouseCoopers
Randy Coughlan was Nancy Wong's roommate at the time she decided to put her New York Life on hold. By coincidence, Coughlan had months before signed up for a race in Nepal, an epic undertaking beginning November 20, involving a seven-day run through the Annapurna foothills of Nepal, reaching an altitude of 10,500 feet, for a distance of more than 155 miles.
For Coughlan, this is a personal challenge. "I've never considered myself a serious runner. I'm definitely stepping up my commitment for this race," he said.
With the friend who convinced him to compete in this race, Coughlan trains every weekend. On Saturdays, the two take Metronorth to the Appalachain Trail, run throughout the day, camp overnight, and run back to the station on Sunday.
He and the other competitors will carry their own equipment and food for the entire week, with only water and a large tent to sleep in at night provided by the race organizers. He is excited to use this opportunity to garner attention and raise funds for Next Generation Nepal.
Wong said, "He has the most compassion, the best heart," and is grateful that he chose to use his race to raise awareness of Next Generation Nepal. She will be waiting for him at the finish line in Pokhara.