Student Club Events
14th Annual NYU Stern SIMR Conference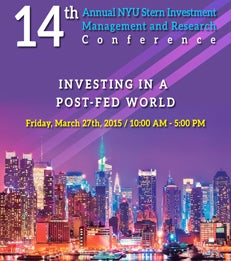 Date
: March 27
Time
: 10:00am-5:00pm
Location
: Henry Kaufman Management Center, 44 W. 4th St.
The
Stern Investment Management & Research
(SIMR) club will host the
14th Annual NYU Stern SIMR Conference
on Friday, March 27, 2015. Themed, "Investing in a Post-Fed World," the conference will offer the opportunity to hear from distinguished speakers and panelists on idea generation and the best investment ideas in today's markets. The event will feature research professionals from the buy-side and sell-side, as well as investment professionals and portfolio managers. Speakers will include Andrea Frazzini (AQR), Michael Maubossin (Credit Suisse) and a number of other investment managers across three panels (activist investing, L/S equity and emerging managers).
For more information or to register, please visit the
conference webpage
.