Student Club Events
Stern Private Equity Club Holds Seventh Annual Conference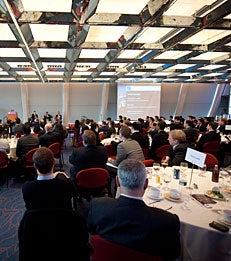 This article, written by MBA student Sagar Shah, originally appeared in The Stern Opportunity. Visit sternopportunity.com for more coverage.
Maintaining a tradition that began in 2006, the Stern Private Equity Club (SPEC) held its Seventh Annual Stern Private Equity Conference at NYU's Kimmel Center on March 2. The sold-out conference had a record turnout of more than 350 attendees and marked a milestone for SPEC, after more than a semester of meticulous planning and coordination on the part of its board.
The conference is arguably the largest at Stern and brought together over 200 professionals in private equity, as well as over 150 students to hear industry panels led by thought leaders.
The SPEC team assembled eight panels this year: Emerging Markets, Leveraged Buyouts, Distressed Investments, Venture & Growth Capital, Energy & Cleantech, Healthcare, Real Estate and Limited Partners & Secondaries. Kirkland & Ellis LLP and Ernst and Young were the Platinum and Gold sponsors, respectively.
The conference was opened by SPEC Co-Conference Chair Lee Garber who welcomed everyone and introduced Dean Henry, who gave the opening remarks and provided introductions for the event's morning keynote, given by Theresia Gouw Ranzetta, a partner at Accel Partners. Ms. Ranzetta's presentation provided tremendous insight into the venture capital industry, including trends, investments affected by regulations here in the U.S. and in emerging markets, and the budding strengths of the New York startup and venture capital community.
Following the morning keynote, the conference began with the Venture and Growth Capital panel moderated by Zeev Klein, General Partner at Landmark Ventures, and featured prominent panelists from NewSpring Capital, Insight Venture Partners and Intel Capital. Before a packed audience, the panel brought fresh insight on the opportunities and challenges of investing in the venture capital industry.
Concurrently, the Distressed panel was moderated by Jason Jack, Managing Director at Ernst & Young Capital Advisors and attended by senior partners and directors from Avenue Capital Group, Monarch Alternative Capital and Sun Capital. The panel included a lively discussion on the role that executives with operating experience can play in private equity, both as operating partners and as investment professionals, and a discussion on how growth capital firms can differentiate themselves through sector focus, transactional flexibility and providing insightful board oversight.
The Emerging Markets panel, moderated by Patrick McGinnis, founder of Dirigo Advisors, came next. It featured panelists across a wide range of firms and geographies, such as The Rohatyn Group, Wolfensohn & Company, Keytone Ventures and Sino-Century China Private Equity Partners.
Key takeaways included that investment in emerging markets are inherently risky as changes in government policies and exchange rates have a huge impact on a portfolio. Timing and execution are two critical factors that can make or break a deal. In China, investors don't mind backing second movers in a particular space, given the large Chinese market. Latin America, Columbia, Peru, Chile and Mexico are the locations that have the most investment potential besides Brazil.
Professor Charles Murphy of the NYU Stern School of Business moderated the Energy & Cleantech panel, which included Starwood Capital Group, Citi, Braemar Energy Ventures and Flagship Ventures.
Those panels were followed by a networking lunch session and a subsequent lunch fireside chat, moderated by Michael Santoli of Barron's, and keynote speakers Christopher Turner of Warburg Pincus and Bill Sacher of Oaktree Capital Management, both of whom are Stern alumni.
Their vast experiences across leveraged buyouts, growth capital, hedge funds and investment banking over their professional careers in New York provided a unique perspective into the world of private equity investing.
They pointed out that the private deal market is highly correlated with the broad M&A market, which has remained subdued due to the uncertainty of the future of Europe, the U.S. political environment and other factors, such as the question of whether emerging markets will continue to grow and the recently witnessed breakneck pace.
Under such a global economic environment, they noted that the best place to be as a private equity buyer is either in specialized small fund in the U.S. or Europe, or a large fund that truly has the global network that can help you to understand where the opportunities are and how your investment is affected by globalization.
The afternoon featured four panels – Leveraged Buyouts, Healthcare, Real Estate and Limited Partners & Secondaries. The day was capped by SPEC Co-President Cecile Aro who introduced the closing keynote speaker Harvey Tepner, Principal of WL Ross. He provided a fascinating presentation on the serious threats and consequences generated by recent LBO booms and took questions from the audience.
With a record turnout of over 350 attendees, over 45 panelists and keynote speakers from some of the most prestigious firm in the industry, and an unprecedented eight industry panels, the Seventh Annual Private Equity Conference was without a doubt a success and a milestone in the club's history.
The event's Conference Chairs were Lee Garber and Emil Lee. The first-year MBA conference committee and board worked diligently to make the event a great success for the club and included Michael Levitin, Francisco Lopez, Patrick Steed, Yang Pan, Will Smalley, Thomas McKinley, Sagar Shah, David Tsang, Jenna Lee and Rahul Dangui.
The event provided a valuable opportunity to many students to gather insights from senior level industry professionals and thought leaders, as well as network with private equity professionals. Furthermore, the SPEC board received several congratulatory emails from the Stern alumni, as well as from Dean Henry.
As one Stern alumnus commented:
"As a Stern alum with over 15 years of asset management experience and having attended many industry conferences and also having been a panelist, I would certainly put the caliber of the conference on par with other industry conferences and think that you and your fellow Stern students did an exceptional job yesterday."