Student Club Events
2017 Stern in Africa Business Forum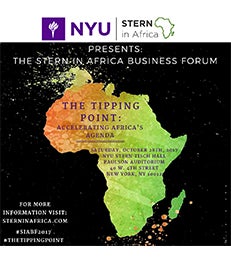 Date:
Saturday, October 28, 2017
Location:
NYU Stern, New York, NY 10012
On Saturday, Oct. 28,
NYU Stern in Africa
will host its annual Stern in Africa Business Forum entitled, "The Tipping Point: Accelerating Africa's Agenda".
The forum will feature commentary from keynote speakers Chid Liberty, Co-Founder of Liberty and Justice, Samuel Alemayehu, Head of Africa and Managing Director at Cambridge Industries LTD, and Bisila Bokoko, head of BBES. Additionally, the event will include discussion on topics including globalizing the African culture, the energy landscape in Africa, and social entrepreneurship as a way to address challenges and gaps in social welfare.
For more information, including a full agenda, please visit the conference
website
.