Student Club Events
2018 Annual Stern VC & PE Conference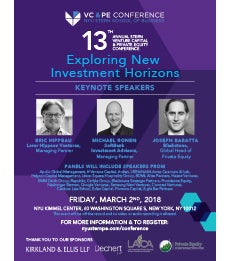 Date
: Friday, March 2 2018
Location
: NYU Stern, New York, NY 10012
On March 2, the
NYU Stern Private Equity Club
(SPEC) will host its 13th annual Stern VC & PE Conference. Conversation at the event will center around New York's Venture Capital & Private Equity communities as well as an exploration of today's investment ecosystem – from the earliest stages of funding right through to the largest investments the industry has seen to date.
Keynote speakers during the conference will include Eric Hippeau, Managing Partner at Lerer Hippeau Ventures, Michael Ronen, Managing Partner of Softbank Investment Advisers, and Joseph Baratta, Global Head of Private Equity at Blackstone.
For more information, including registration links, please visit the
SPEC website
.