Student Club Events
NYU Stern's AHBBS and NYU Wagner's BSA Co-host Author Maggie Anderson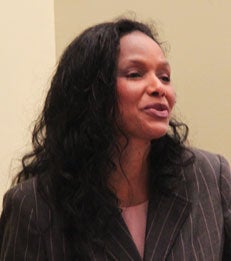 If black families earning more than $75,000 per year were to increase their spending on black-owned businesses to 10 percent, we could solve all of our social problems…we could create close to one million jobs.
On April 26, NYU Stern's
Association of Hispanic and Black Business Students (AHBBS)
and NYU Wagner's
Black Student Alliance (BSA)
co-hosted Maggie Anderson, author of "Our Black Year: One Family's Quest to Buy Black in America's Racially Divided Economy" (published by PublicAffairs, February 2012). Ms. Anderson discussed her book – in which she documented her attempt to patronize only African-American businesses for one year – and the establishment of the
Empowerment Experiment
.
Ms. Anderson linked the high unemployment rate among African-Americans to the low success rate of African-American-owned businesses. She argued that other ethnic and religious minority groups support businesses within their communities, mitigating the effects of discrimination in the business world, but this no longer happens in the African-American community. She emphasized that African-Americans represent about one trillion dollars in buying power, yet only two to three percent of this money goes to African-American-owned businesses.