Research Center Events
Stern's Urbanization Project Hosts a Conversation with Bill Bratton, CEO of Bratton Group LLC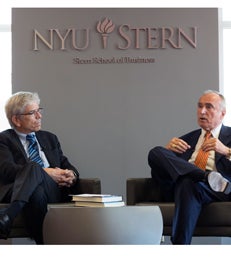 In our democratic society, the number one obligation of government is public safety.
As a part of the Conversations on Urbanization series held by NYU Stern's
Urbanization Project
,
Paul Romer
, Director of the Urbanization Project, Director of the Marron Institute and Professor of Economics, spoke with Bill Bratton, who formerly served as chief of police of the Los Angeles Police Department, New York police commissioner and Boston police commissioner, in a public presentation on October 2. During the conversation, Bratton discussed the importance of police to society, the changing role of police from the 1950s to the 1990s and his own role in the reduction of crime in New York City during the 1990s.
Bratton underscored the important role police play in maintaining quality of life, emphasizing that, "In our democratic society, the number one obligation of government is public safety." He outlined the many societal challenges that police faced from the 1960s through the 1980s as well as the impact of a change in law enforcement focus: "By 1990, we had a time of increasing professionalism of police…but a response on responding to crime…there was no focus on trying to stop crime." The result of this, he asserted, was an enormous increase in crime and a decline of quality of life in U.S. cities.
Bratton discussed the changes he implemented as chief of the New York City Transit Police Department as well as the changes he made as New York police commissioner which resulted in a 39 percent decrease in crime during the two years he held that position. He emphasized the need to focus on partnership with the community, as well as ensuring that police act within the parameters of the law and are respectful and consistent. He asserted that the changes in policing put into place during the 1990s have had a significant impact on city life: "The result of this is what we're experiencing now. Crime has gone down for 20 years."
Watch the full-length video
here
.