Business and Policy Leader Events
Dina Powell, President of the Goldman Sachs Foundation, Joins MBAs for a Block Lunch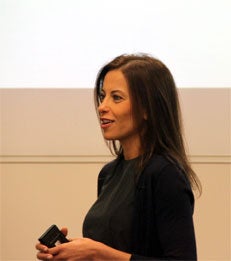 As part of NYU Stern's Block Lunch event series, hosted by Dean
Peter Henry
, Dina Habib Powell, president of the Goldman Sachs Foundation and global head of Corporate Engagement at Goldman Sachs, spoke to more than 100 MBA students.
Powell shared her personal and professional story, which began as a young immigrant from Cairo, Egypt, whose family moved to Dallas, Texas. Before joining Goldman Sachs, Powell served as the Assistant Secretary of State for Educational and Cultural Affairs and led the State Department's Bureau of Educational and Cultural Affairs.
In her current role at Goldman Sachs, she oversees the organization's "10,000 Women" initiative, which provides underserved female entrepreneurs around the world with a business and management education. The initiative, explained Powell, is rooted in research showing that empowering women is central to driving social change. According to studies from Goldman Sachs, empowering female entrepreneurs leads to improved health and education for not just those women, but also their families and broader communities.
Since the launch of "10,000 Women," Goldman Sachs has built a capacity for women entrepreneurs in 40+ countries. One such woman, Ayodeji, who participated in the initiative in Africa, joined Powell and shared her story as the owner of a growing food business. She also stressed the importance of "paying it forward."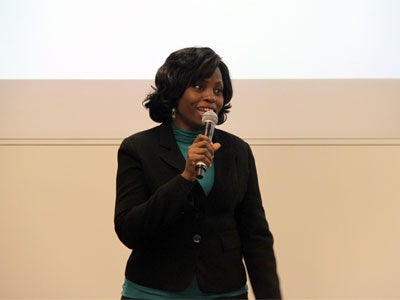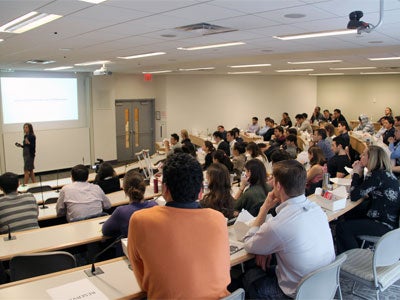 Over the course of the semester, students heard candid perspectives from thought leaders in various industries, including Helene Gayle, president and CEO of CARE USA, and Michael Warren, principal of Albright Stonebridge Group.