Business and Policy Leader Events
Dean Peter Henry Interviews Helene Gayle, President and CEO of CARE USA, at Block Lunch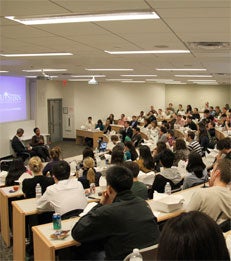 As part of NYU Stern's Block Lunch event series, Dean
Peter Henry
interviewed Helene Gayle, president and CEO of CARE USA, before an audience of more than 100 MBA students. An international humanitarian organization with 10,000 employees, CARE USA directly reached 83 million people in 84 countries last year through its poverty-fighting programs.
"CARE's focus is on long-term development, not just short-term relief," explained Dr. Gayle, whose personal and professional mission is to help create better, healthier, more prosperous and sustainable communities around the world. One hurdle to that goal is what Dr. Gayle calls the "language gap" between the nonprofit and corporate worlds. She argued that not-for-profit organizations can learn from the corporate sector, particularly when it comes to metrics, and stressed the importance of measuring social impact. She also underscored that creating social value is inseparable from corporate success in today's complex and increasingly intertwined world.
Pointing to record-breaking floods and droughts in communities around the globe, Dr. Gayle discussed the challenges presented by climate change. "How do you build resiliency into communities that have to deal with the effects of climate shifts?" In closing, she outlined her three long-term goals for the organization:
Maintaining CARE's financial health
Remaining relevant as global needs and issues evolve
Using technology and innovation to leapfrog today's goalposts and unleash potential
Over the course of the semester, students will hear candid perspectives from thought leaders in various industries. Upcoming Speaker
Dina Powell
, president of the Goldman Sachs Foundation and director of Global Corporate Engagement, Goldman Sachs, will speak to students on April 29.
Watch the video: