Business and Policy Leader Events
Michael Warren, Principal of Albright Stonebridge Group, Speaks with MBA Students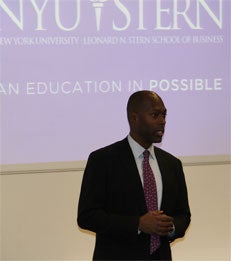 As part of NYU Stern's Block Lunch event series, hosted by Dean
Peter Henry
, Michael Warren, principal of Albright Stonebridge Group, addressed more than 100 MBA students on February 11. Albright Stonebridge Group is a global commercial diplomacy firm that helps companies manage corporate-development opportunities and market risks around the world.
Warren discussed many of the "seismic shifts" currently taking place in the global business landscape and what they will mean for the next generation of business leaders. Based on the trends he has observed in his work at Albright Stonebridge Group, Warren shared some specific insights with NYU Stern students:
The next generation of business leaders will have to be fluent across the private, public and social sectors. These sectors are trifurcated in the US but integrated in the emerging markets and therefore heavily impact business.
Corporations and their leaders will have to understand a business landscape that is driven by macro forces such as scarce resources and globalization, and manage related international issues such as rising middle and consumer classes, demand for new infrastructure, and cyber security and data privacy.
Personal relationships, trusted networks and partnerships will continue to weigh heavily in the ability to operate effectively in the emerging-market nations, where market and government institutions are less mature.
NYU Stern MBA students have the opportunity to become business leaders who set intelligent and thoughtful long-term priorities and have the opportunity to create real value, rather than chasing short-term results. Too many of today's CEOs spend the majority of their time undoing the mistakes of their predecessors instead of setting positive, forward-looking priorities.
Over the course of the semester, students will have an opportunity to hear candid perspectives from thought leaders in various industries. Upcoming speakers include Helene Gayle, president & CEO of CARE USA, and Dina Powell, president of the Goldman Sachs Foundation and director of Global Corporate Engagement, Goldman Sachs.
Watch the video: