Research Center Events
Google's Regina Dugan on How to Spark Breakthrough Innovation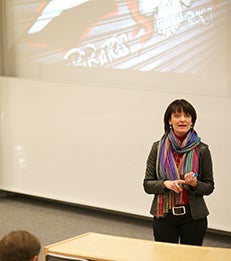 Innovation doesn't happen in an empty room; it happens when inspired and challenged people work together. - Regina Dugan
NYU Stern's
Berkley Center for Entrepreneurship and Innovation
hosted a conversation with Regina Dugan, leader of Google's Advanced Technology and Projects Group, this March. Dugan, the 19th director of the Pentagon's Defense Advanced Research Projects Agency (DARPA), discussed the DARPA model and its disciplined approach to innovation, her implementation of that model at Google, and its potential impact across organizations and industries.
Touching on DARPA's history of major inventions, Dugan explained how the agency has produced an unmatched number of innovations over the course of 50+ years. Now, in applying DARPA's model for innovation at Google, Dugan has overseen multiple projects in her two years and nine months in the role, including a mobile device that maps indoor space, modular hardware for mobile devices and a new storytelling format designed for mobile.
Dugan offered a few words of advice to students and alumni in the audience:
Innovation doesn't happen in an empty room; it happens when inspired and challenged people work together.
Boredom is the enemy of innovation.
Breakthrough innovation is a discipline that must be learned.
Work must be an expression of love.