Business and Policy Leader Events
NYU Stern's Center for Sustainable Business Panel Discussion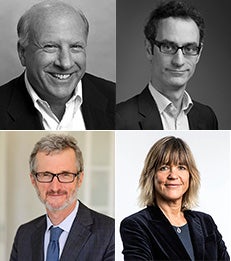 Sustainability could be the next catalyst for corporate transformation. – Georg Kell
On December 1, NYU Stern's
Center for Sustainable Business
hosted a panel discussion, entitled "Sustainability Leadership: How Companies Are Realizing the Value of Sustainability in Their Business Strategies". The panel featured Adi Ignatius, Editor in Chief of the Harvard Business Review Group; Georg Kell, Vice Chairman of Arabesque Partners; and Jonathan Maher, Vice President of Corporate Social Responsibility (CSR) and Sustainability at L'Oréal USA. Professor
Tensie Whelan
, founding director of the Center, moderated the conversation.
The discussion opened around the topic of sustainability ratings in which Kell noted there are over 120 companies offering more than 500 rating systems. The panelists shared insights on the importance of sustainability on brand equity, noting the market shift toward clean, environmental-friendly products. Before taking questions from the audience, Professor Whelan directed the conversation toward the new legal and ethical challenges that loom for businesses following the U.S. election.
Learn more about the Center for Sustainable Business
here
.