Research Center Events
The Path Forward: Chipotle's Vision for its Future Food Ecosystem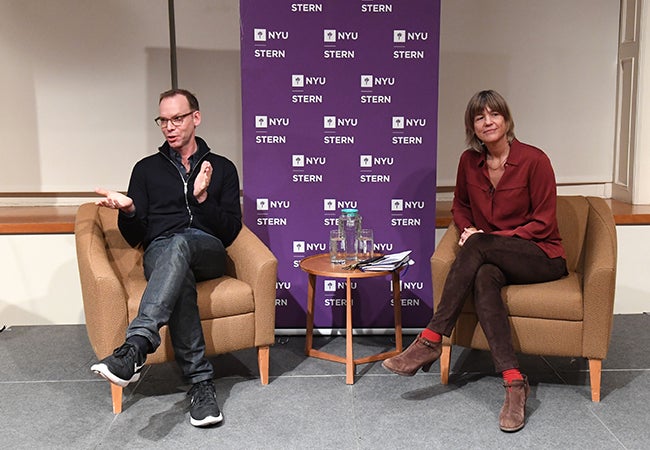 Leadership is not a matter of knowing all of the answers or executing on a set of formulas.
"It's a continuous process of finding the right people to help you build on your good intuitions," Steve Ells, founder and CEO of Chipotle Mexican Grill, said, reflecting on his path from aspiring chef to successful restaurateur with over 2,000 locations of his fast-casual chain.
Speaking to a packed room of students and alumni, Ells shared Chipotle's vision for making great food more affordable and accessible in a conversation moderated by Professor
Tensie Whelan
, director of NYU Stern's
Center for Sustainable Business
. As a young chef, Ells trained with Jeremiah Tower, whose cooking style celebrated seasonal, artisanal and local ingredients that resulted in better eating experiences for guests. "That became my DNA," he explained. "Our journey toward 'Food with Integrity' developed from the way I learned to cook and the influences I had early in my career."
"Food with Integrity" has led Chipotle to re-evaluate its product sources as well as its impact on animals, consumers, employees and farming communities. The chain now prioritizes responsibly raised meats, pasture-raised dairy and locally grown produce in restaurants across the country, but its path has not been without its share of learning curves. For example, conventional pig farms supply most of the pork consumed in the US, and conversion to a responsibly raised model robust enough to meet Chipotle's demand requires time and investment in new techniques and initiatives, a problem not always easy to express to customers.
"We are investing in ways of raising and cooking food that is not as plentiful but is more respectful," Ells said.
Ells also described the challenges Chipotle faced after an unexpected E. coli outbreak in 2015, after which the company is still rebuilding consumer trust in order to refocus on its sustainability initiatives once again. Ells believes his employees are the key to move this mission forward. "It's easy for us to hire good people because they support our purpose and what we are doing," he explained. "Our job as leaders is to empower them to understand our broader goals, identify new ways of operating and achieve on them."