Research Center Events
A Conversation with Unilever CEO Paul Polman on the 21st Century Corporation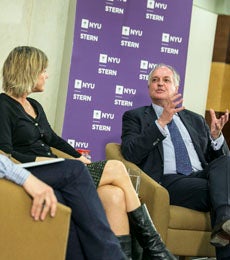 On May 9, 2016, NYU Stern's
Center for Sustainable Business
and
The Huffington Post
co-hosted a conversation with Paul Polman, CEO of Unilever, and Center Director
Tensie Whelan
on the next generation of capitalism: how companies, in providing value to society, provide more value to themselves. Panelists discussed both how sustainability embedded in corporate strategy yields financial results, and the challenges the current financial system presents. The event was moderated by Jo Confino, Executive Editor of
The Huffington Post
. Dean Peter Henry delivered opening remarks and highlighted the importance of the Center's mission: A Better World Through Better Business.
Confino began the dialogue by noting a number of challenges facing corporations today, including the loss of ecosystems, scarcity, and climate change. "21st century companies need 21st century solutions to address the challenges of this new world," he said, framing the evening's conversation.
Polman discussed the evolution of business and society, and stressed the need to create a tipping point to drive change. "To change behavior, you have to change the parameters," he stated, emphasizing the importance of partnerships among businesses, governments, and NGOs. He noted, however, that, "Eventually, the cost of not acting will become higher than the cost of acting - that will help spur companies into action. Economic forces will be drivers of change more than morality." Polman also stressed the importance of using business models that incorporate the positive forces on society. For example, Unilever has a leadership development program specifically meant to help employees manage for 2020 onward. A focus on integrity, partnerships, and systemic thinking will help shepherd companies through the challenges of the 21st century, he noted.
Throughout the discussion, Professor Whelan described how trends in the finance sector will push companies towards more sustainability-driven goals. "If you have outstanding ESG [Environmental, Social, Governance], you have outstanding financial performance. The data proves it." She also noted that complexity and change are always challenging. However, if sustainability is embedded in a corporation's business model, it is signaling an openness to change and innovation that can guide a company successfully into the future.
At the conclusion of the event, Polman advised the next generation of business leaders to follow their purpose, create a passion around that purpose, and maintain a positive attitude. Confino ended the conversation with a call to action, noting that, "Everyone can drive change."
Watch the video.