Research Center Events
Dialogue on the White House National Action Plan on Responsible Business Conduct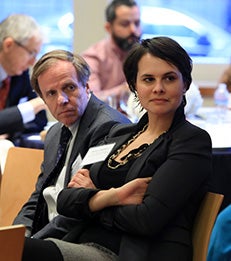 We need to be ambitious again. We need to raise the bar of what's possible. - Professor Michael Posner
On Monday, December 15, the NYU Stern
Center for Business and Human Rights
and the United States Council for International Business (USCIB) co-hosted an open dialogue on President Obama's recently announced National Action Plan on Responsible Business Conduct. This event was the first in a series around the country, where key stakeholders will be able to provide input on the National Action Plan (NAP) process and content.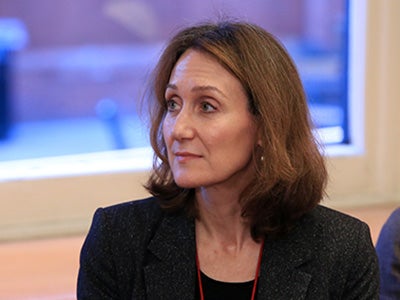 Ambassador Elizabeth Cousens
Ambassador Elizabeth Cousens of the US Mission to the United Nations offered the keynote address, outlining current US initiatives, identifying the diverse array of representatives involved in the development and implementation of this NAP, and providing a framework for the conversations to come on issues of transparency and responsibility in business operations abroad.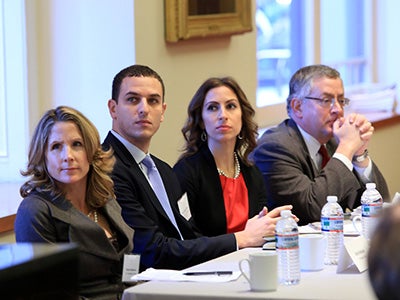 Panelists (from left to right): Karen Hanrahan, Ariel Meyerstein, Melike Yetken and Eric Biel
Panelists representing the US Department of State further underscored the importance of inclusivity and consultation to the development of the NAP. Eric Biel, Deputy Assistant Secretary of State, said, "More and more, we need to engage with labor organizations, civil organizations, and business [in addition to domestic and foreign governments]. The tragedy in Rana Plaza drove the importance of that home."
Moderator Ariel Meyerstein of USCIB echoed Biel's sentiment, encouraging participants to "Be creative. Be pragmatic. Be problem solvers."
Attendees then broke into groups to raise questions, concerns, and recommendations on issues ranging from reporting to land rights to human rights challenges and governance gaps. Looking forward to the continuation of these conversations throughout 2015, Professor
Michael Posner
, co-director of the NYU Stern Center for Business and Human Rights, noted the spirit of open discussion amongst all of the working groups and the wealth of voices represented. "We need to be ambitious again," he said in closing. "We need to raise the bar of what's possible."
Read more about the
US National Action Plan on Responsible Business Conduct