Business and Policy Leader Events
Diversity in Business: A Fireside Chat with Karen Peetz, BNY Mellon President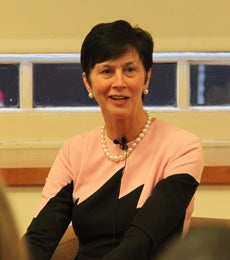 NYU Stern's
Leadership Development Program
welcomed Karen Peetz, BNY Mellon president and founder of its women's network, for an interactive dialogue on diversity in business as part of the School's Leadership Development Speaker Series. Roxanne Hori, associate dean of corporate relations, career services and leadership development, moderated the discussion on the importance of building and sustaining diverse teams to drive innovation, revenue growth and financial performance.
"Diversity is imperative for an organization to be globally competitive," stressed Peetz. Citing a McKinsey & Company study, she examined four factors that contribute to diverse employees being held back in a company:
Lack of role models
Lack of networks
Prejudice from others
Prejudice about themselves
"Grit trumps everything," said Peetz in a discussion about what makes leaders. She argued that as individuals advance in an organization, they are tested for grit, for determination and for perseverance when the going gets tough. She also shared several tips for succeeding in today's competitive market:
Have a voice
Have integrity
Be a trusted and mature colleague
Be true to yourself
Coordinated by Stern's Leadership Development group in the
Office of Corporate Relations, Career Services and Leadership Development
, the Leadership Development Speaker Series gives students an opportunity to hear from senior executives in different industries on the challenges and lessons of being a leader.