Student Club Events
Second Annual Diversity Case Competition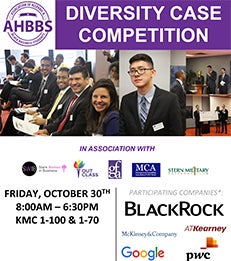 On Friday, October 30, the Association of Hispanic and Black Business Students (AHBBS) will host the 2nd Annual Diversity Case Competition in partnership with Stern Women in Business (SWIB), Graduate Finance Association (GFA), OutClass, Management Consulting Association (MCA) and the Military Veteran's Club (MVC).
The competition is open to all NYU students. Students will work in teams to develop business strategies for BlackRock's Diversity and Inclusion program. Each team will work with a mentor and will then present to a panel of judges. The winning team will receive an award of $3,000 and will present their strategy to BlackRock leadership at their offices in November.
For more information, please see the
AHBBS site
.