Research Center Events
Economic Outlook Forum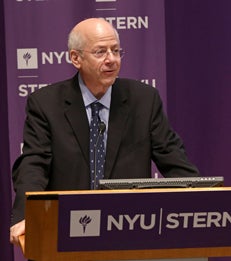 On February 1, Professor
Kim Schoenholtz
moderated a discussion among three leading economists. Joyce Chang of J.P. Morgan, David Greenlaw of Morgan Stanley and Ethan Harris of Bank of America Merrill Lynch each made a brief presentation regarding economic and market prospects, followed by a discussion and audience Q&A.
The Stern
Center for Global Economy and Business
aims to promote faculty research, housing several research groups that explore the global aspects of modern economies and business. For more information and presentation slides, please visit the
Center's website
.