Student Club Events
Entrepreneurs Exchange (EEX) Summit 2012: Build Something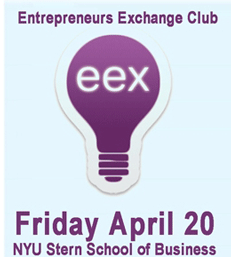 This article, written by MBA student Judy Shen, originally appeared in The Stern Opportunity. Visit sternopportunity.com for more coverage.
"I just want to make a game for those who play will like," said Dan Porter, CEO of OMGPOP at the 2012 Stern
Entrepreneurs Exchange Summit
.
With this clear vision in mind, Porter created the mobile game "Draw Something," which has reached more than 50 million downloads and ultimately attracted Zynga to acquire OMGPOP for $180 million in March 2012.
Success was not always easy. OMGPOP started as a dating site, and Porter created other games that were not so successful, such as "Puppy World" that allowed users to raise virtual puppies.
What led to the success of "Draw Something" may be its creative simplicity: A Pictionary-like game where you draw a picture for your opponent to guess, along with Dan's vision to create a "social game" that appealed to the mainstream segment.
The game saw its popularity skyrocket from having three drawings per second the day the game launched to 3,000 drawings per second two weeks later.
Other speakers on the 2012 Stern Entrepreneurs Exchange Summit panel included Neil Blumenthal from Warby Parker, David Tisch from TechStars, Jason Baptiste from OnSwipe and John Maloney, president of Tumblr.
David Tisch noted that building relationships and informing VC's of your product progress are some important ways to ultimately land venture capital funding. The only exception of not needing to pitch your idea is if you have an amazing product that can sell itself, he said.
If you ever worry that sharing an idea you have will lead to someone copying you, then the consensus from the panelists was that you don't have a strong product (unless it's proprietary software). If your product is easy to copy it suggests that someone can do it better than you, the panel said.
Speaker David Teten of ff Ventures was brutally honest in pointing out the dangers of being overexposed to only the rosy-colored aspects of entrepreneurship.
David shared three insightful points before considering entrepreneurship: Know that you are probably going to fail at your first ventures, and once you take an unconventional start-up route it will be more difficult to find jobs in traditional job areas, such as consulting and marketing.
If you are prepared for the potential reality of these three points, Neil Blumenthal of Warby Parker suggested that after thoroughly assessing your business model, running extensive research and testing, don't be afraid to execute.
But traditional paths we plan to pursue post graduation, or the jobs we already have, may not be a bad choice either, the panelists said.
At the end of the day, there will always be trade-offs to paths we take, but ultimately we have a choice and that's what matters.