Research Center Events
Executive Education Short Course: Leadership Training for High Potentials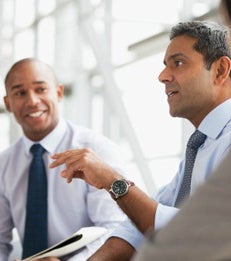 Date
: June 6 - 7, 2016
Location
: NYU Stern, New York, NY 10012
Leadership is the ability to make things happen with, and through, other people. Yet the world within which leaders operate is complex, dynamic, and unpredictable. To be effective leaders, executives need to understand how things work within his or her organizations and industries but also be willing and able to challenge the status quo. Leaders need to be able to articulate a compelling vision and have that vision executed. Leaders need to be highly competent as individual contributors, yet also highly effective in motivating and inspiring others.
This program will introduce you to a variety of analytical frameworks related to leadership and will focus on how to apply those frameworks to analyze and address important leadership challenges. It will also help you to better understand the context within which leaders typically operate, and help make you more conscious of the choices you make as a leader in an organization. To achieve these objectives, this course combines a variety of pedagogical approaches: lectures, discussions, case analysis, short videos, and group exercises. Emphasis is placed on self-reflection and linking the concepts from the program to the participants' own leadership objectives.
This program is for executives with high potential for leadership, executives who are managing other people or teams, or executives with significant leadership responsibilities.
For more information on this short course for executives, please visit the
course webpage
.