Research Center Events
Winning Investors Over: A Fireside Chat with Professor Baruch Lev and Gene Epstein of Barron's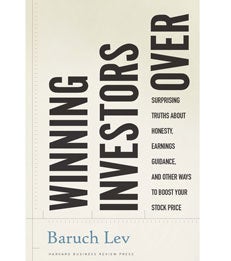 Date:
Thursday, March 8, 2012
Time:
6:00pm registration, 6:30-7:30pm program, 7:30-8:30pm reception
Location:
NYU Stern, Kaufman Management Center, 44 West Fourth Street, Barr-Kawamura Commons, KMC 5-50
*By invitation only
The National Investor Relations Institute (NIRI) New York and NYU Stern will co-host a fireside chat with Professor Baruch Lev, author of "Winning Investors Over: Surprising Truths About Honesty, Earnings Guidance and Other Ways to Boost Your Stock Price". Professor Lev will be joined by Gene Epstein, author of Barron's "Economic Beat.""
Professor Lev is the director of the Vincent C. Ross Institute of Accounting Research and the Philip Bardes Professor of Accounting and Finance at New York University Stern School of Business. Epstein is Barron's Economics and Book Review Editor and is the author of "ECONOSPINNING: How to Read between the Lines when the Media Manipulate the Numbers".
Professor Lev's research tackles thought-provoking topics including:
Quantifying the impact of "soft information" on your stock
Managing investor expectations and earnings guidance
Understanding Investor behavior and building long-term relationships
Best practices for delivering "bad" news
Can there be "too high" a valuation?