Student Club Events
16th Annual Graduate Finance Association Conference: Navigating Uncertain Waters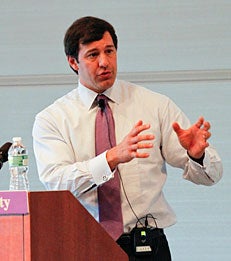 According to Mr. Varvel, American firms must continue to adapt, experiment, and innovate in order maintain a competitive advantage.
This article, written by MBA student Tom Lee, originally appeared in The Stern Opportunity. Visit sternopportunity.com for more coverage.
Officially, the US recession ended in 2009. Since then, GDP has slowly started to grow again, and the Dow has recovered to nearly pre-recession levels. But as the US continued its recovery in 2011, new concerns over sovereign debt, both in Europe and the US, and a slowing world economy have brought the nascent recovery to a standstill. Greek default is imminent, and a European banking crisis looms on the horizon. In the US, unemployment remains above 9 percent, and the Occupy Wall Street movement continues to gather momentum.
With so much volatility in the markets today, it is more important than ever to be prepared for dealing with uncertainty. As such, NYU Stern's
Graduate Finance Association
recently hosted its 16th Annual Finance Conference entitled "Navigating Uncertain Waters." Eric Varvel, Chief Executive Officer of Credit Suisse's Global Investment Bank, headlined the event. He spent 15 years in the Asia Pacific region in a variety of senior roles, and served as CEO of Credit Suisse's Europe, Middle East and Africa region. Mr. Varvel shared his unique insights on the status of the world economy in his presentation entitled "Adapting to Change."
In anticipating the future, Mr. Varvel suggests looking at the past. Studying the cycle of countries that have grown from developing to developed economies over the last thousand years can perhaps offer a glimpse into what we can expect in the future. What we see is a pattern of developing nations emerging every 200 to 300 years overtaking existing mature economies to become the next developed economy. Now, as the US begins to reach the end of its growth limits, we are on the verge of another cycle with China and the BRIC countries positioned to become the next economic powers.
So what does this mean for the US? Are we in danger of being marginalized by China? Not necessarily, according to Mr. Varvel. While the sheer size of China's middle class population will propel its growth towards becoming the largest economy within the next couple of decades, the US can still maintain a leading position by offering the most attractive investment opportunities in the world. According to Mr. Varvel, American firms must continue to adapt, experiment, and innovate in order maintain a competitive advantage.
At the same time, Mr. Varvel stresses the importance of recognizing the disruptive by-products of technology. Although advances in the internet and electronic devices have enhanced transparency and speed of information, they also present some economic drawbacks.
For instance, technology, in small part, has contributed to high unemployment. Enhanced inner-connectivity between consumers and suppliers has increasingly led to the obsolescence of intermediary players, and the adaptation of technology in both service and manufacturing industries has led to the elimination of crucial entry-level jobs. Mr. Varvel also pointed out the effect technology has on market volatility. We saw earlier this year with the Arab spring and London riots just how quickly a social or political movement can ignite and cause uncertainty in the markets. While there is a common perception that technology is always a good thing, Mr. Varvel cautions that we must be responsible for ensuring that the use of technology results in a "net positive" for society as well as the economy.
If innovative thinking and experimentation are critical to being competitive in the economy of the future, an emphasis on higher education is an essential prerequisite, according to Mr. Varvel. At an ever-increasing pace, students from developing countries continue to earn advanced degrees in the US, only to export their talents back to their home countries. This means the US must retain more talent within its borders to simply maintain its current competitive edge. A highly educated workforce, Mr. Varvel suggests, is key to creating an environment of world-class investment opportunities.
As the world economy faces many short-term challenges, the long-term view Mr. Varvel proposes helps to put things in perspective. Ros Stephenson (MBA 1987), Managing Director and Head of Global Corporate Finance in the Investment Banking Division at Barclays Capital, echoed Mr. Varvel's theme of long-term resilience in the afternoon Fire Side Chat moderated by Stern professors Charlie Murphy and Roy Smith. While Ms. Stephenson expects a challenging few quarters ahead, she is cautiously optimistic about what lays ahead for Barclays Capital and the investment banking industry in general.
In the end, only time will tell how the world economy will emerge from these uncertain times. Whatever happens, it seems that embracing change and adapting effectively to economic power shifts will be the keys to longevity.