Business and Policy Leader Events
NYU Global Governance Roundtable: Building Ethical and Sustainable Global Companies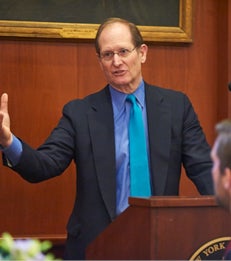 On April 25, NYU Stern and NYU Law co-hosted the NYU Global Governance Roundtable: Building Ethical and Sustainable Global Companies. The roundtable was an invitation-only moderated discussion with leading business and legal practitioners and faculty from NYU's law and business schools.
After Dean
Peter Henry
and NYU Law Dean
Trevor W. Morrison
delivered opening remarks, the first session on developing global corporate compliance cultures was led by NYU Law Vice Dean
Kevin Davis
. Panelists included Laurie R. Ferber, general counsel, MF Global Holdings, Ltd.; Sven Erik Holmes, vice chairman - legal, risk and regulatory, KPMG LLP; Labe Jackson, audit committee chair, JP Morgan Chase; and Larry Kanarek, senior director, director of professional standards, McKinsey & Company.
The co-directors of NYU Stern's Center for Business and Human Rights, Professor
Michael Posner
, former assistant secretary of state for the Bureau of Democracy, Human Rights and Labor, and Research Scholar
Sarah Labowitz
, former policy advisor in the State Department Bureau for Democracy, Human Rights, and Labor, led the second session on social aspects of governance and human rights. Panelists included Claudia Dumas, president and CEO, Transparency International-USA; Bennett Freeman, senior vice president, sustainability research and policy, Calvert Investments, Inc.; Amol Mehra, director, International Corporate Accountability Roundtable (ICAR); and Rachel Robbins, former general counsel, International Finance Corporation, New York Stock Exchange and JP Morgan & Co.
The panel discussions were followed by a lunch keynote address featuring Benjamin W. Heineman Jr., senior fellow at the Belfer Center for Science and International Affairs at Harvard's Kennedy School of Government, distinguished senior fellow at Harvard Law School's Program on the Legal Profession, lecturer at Yale Law School; former General Electric senior vice president and general counsel from 1987-2003; former General Electric senior vice president for law and public affairs from 2004-2005; and author of High Performance with High Integrity (Harvard Business Press 2008).