Research Center Events
NYU Stern and L2 Host 2012 L2 Innovation Forum on Ideas and Innovation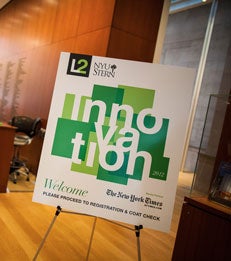 On Wednesday, November 7, NYU Stern and L2 held the fourth annual Innovation Forum in New York City. Speakers from industry and academia presented to a sold-out audience on topics such as social contagion, stock picking and the Digital IQ and America's political division.
View
the program.
Peter Henry
, Dean of NYU Stern, welcomed the audience and spoke to Professor and L2 Founder Scott Galloway: "The third world is going to play a huge role in driving growth in the future… the box I want to check is 10 years from now, have we really changed the way that people think about growth relative to the rest of the world."
@PeterBlairHenry
Marketing Professor and L2 Founder
Scott Galloway
spoke about Low-Touch Luxury: "What I am going to propose today is that the future of luxury is around low touch… There is this notion that we have an emerging generation of consumers that just want access to the product or core service and don't want to be bothered [with salespeople]… and the trend is more pronounced as we're heading into the emerging markets as we look at growth with different brands."
@profgalloway
Sinan Aral
, Professor of Information, Operations and Management Science, presented on Social Contagion: "Social networks and peer influence are powerful tools for accomplishing marketing and social policy [objectives]."
@sinanaral
Vasant Dhar
, Professor of Information, Operations and Management Science and co-head of the Stern Center for Business Analytics, described the role of Digital IQ in stock picking: "Individual securities are affected by certain kinds of factors… should we be considering a new set of factors that have become relevant in how we evaluate brands and companies?"
@vasantdhar
Jonathan Haidt
, Thomas Cooley Professor of Ethical Leadership, explained why America is divided in three: "Because of our politics, because of the way we are with our moral psychology, the louder one side screams about a threat the more the other side denies it and stops hearing it… morality binds and blinds."
@jonhaidt
Luke Williams
, Professor of Marketing and Entrepreneurship, and head of the Berkley Center for Innovation and Entrepreneurship, moderated a panel with heads of new companies.
@lukegwilliams