Business and Policy Leader Events
Prof. Irshad Manji Shares Leadership Lessons with TRIUM Global Executives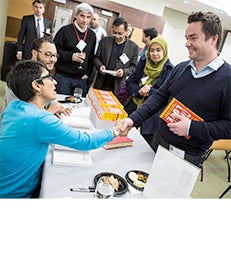 Disagreeing with each other's ideas does not have to mean denying each other's humanity. - Irshad Manji
Professor Irshad Manji, founder of the Moral Courage Project and a faculty member at NYU Wagner, shared leadership lessons with executives in the
TRIUM Global Executive MBA program
and TRIUM alumni on Thursday, January 22. Calling for a "deeply honest conversation," Professor Manji began by sharing her own story, as a refugee from Uganda who came to Vancouver, Canada in 1972.
At the age of 14, attending both public high school and an Islamic school, she began to ask "inconvenient questions" that resulted in her leaving her religious school to take up self-directed readings in culture, religion and belief systems. "I didn't think I had to choose between Islam and the West. I wanted to be both faithful and thoughtful."
In the wake of 9/11, religious and cultural disapproval of her questions prompted Professor Manji to write
The Trouble with Islam Today: A Muslim's Call for Reform in Her Faith
. She reflected on the very human challenge of overcoming bias that pits identities – and people – into an us-versus-them paradigm: "We humans are a tribal lot. We don't like to lose face, reputation, honor, relationships, or credibility. It is a universal issue."
Professor Manji drew leadership lessons from her experience, noting that it is important to bring the whole self to one's work. She stressed the importance of self-awareness – knowing what you stand for and what you are going to do about it – and world-awareness, integrating different points of view to reach innovative outcomes on issues that would otherwise be polarizing. Her advice to the class: "Disagreeing with each other's ideas does not have to mean denying each other's humanity."
After taking questions from the audience, Professor Manji signed copies of her latest book,
Allah, Liberty and Love
, for students and alumni.