Business and Policy Leader Events
L2/NYU Stern Digital Leadership Academy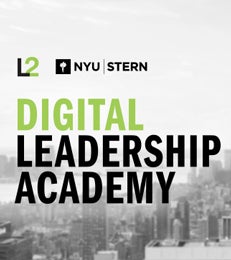 Date
: Wednesday, July 13 - Thursday, July 14, 2016
Location
: NYU Stern, New York, NY
*By invitation only
The L2/NYU Stern Digital Leadership Academy, led by HBS, Tuck, Kellogg, McGill and NYU faculty and L2 researchers, is a two-day conference rooted in business fundamentals coupled with tactical sessions on digital topics. 300+ participants from the world's iconic retail, beauty, CPG, OTC, luxury, big box brands with titles including but not limited to—VP's, directors, senior managers and team leaders are encouraged to attend.
Topics include: Amazon The Disruptor, The Fragility of Market Leadership, Strategic Innovations, Digital Organization, The Laws of Globalization, Mobile, Entrepreneurship, Social Platforms, Competing in Asia, Video, Building and Measuring Brand Value, Leadership Stories, Business Strategy, Negotiations and Measuring Brand Value.
This is a member-only event. Learn more information
here
.