Business and Policy Leader Events
Mary Ellen Iskenderian of Women's World Banking Discusses Leadership with MBAs
Mary Ellen Iskenderian, president and CEO of Women's World Banking (WWB), the world's largest network of microfinance institutions and banks, spoke to a group of MBA students this fall as part of NYU Stern's Leadership Luncheon Series, coordinated by the School's Leadership Development Team.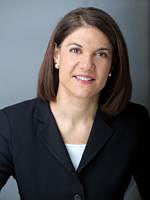 Iskenderian shared an overview of WWB, which aims to empower low-income women and their households in Africa, Asia, Eastern Europe, Latin America and the Middle East, by providing access to financial services, knowledge and markets.

Looking ahead, Iskenderian underscored the importance of leadership in the industry so that microfinance institutions (MFIs) develop into sustainable and regulated financial institutions, which have a greater positive impact in their communities. She also described WWB's recent launch of the Center for Microfinance Leadership, which prepares CEOs and senior managers of MFIs to steer their organizations through the current period of rapid change and commercialization in the sector.